You've put in the hard work to define the concept of your event as well as its objectives and format, and now it's time to dive into the deep end and put all your ideas into action.
And so the complex and tedious work begins: creating the event website, designing the registration forms, preparing confirmation emails, managing the registrants, coordinating partners, organizing sessions to share content, orchestrating meetings and networking, etc.
Fortunately, there is a solution to speed up this prep work, and this solution is… ready-to-use event templates!
With inwink, you have access to a library of pre-configured event templates which you just need to personalize with your brand colors and content to create your own event.
Different types of templates have been designed to facilitate your task as an event organizer. Each template is pre-configured to meet specific objectives, context, and event format.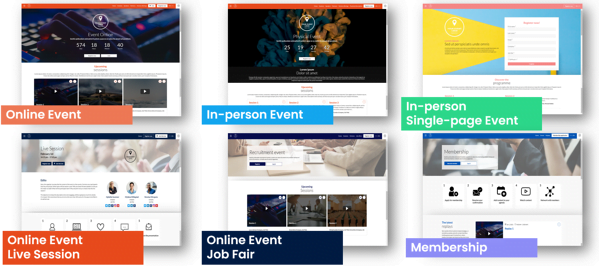 To this day, inwink offers 6 templates that will be presented in this article. It's up to you to choose which one better fits with your project!
Digital or hybrid event templates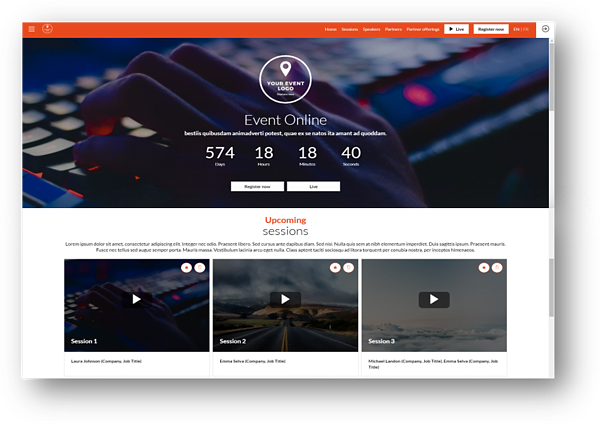 This template contains all the features to set up a complete online event (event website and associated Back-Office), with video sessions, networking, 1to1 business meetings, and many possibilities for interaction.
The template allows you to highlight content, partners, and offer replay after the event.
You can also use it to create the digital part of your hybrid event.
This format is ideal for:
An online flagship event
A day of online conferences
An online 1to1 meetings event
A digital tradeshow
The digital platform of a hybrid event
In-person event templates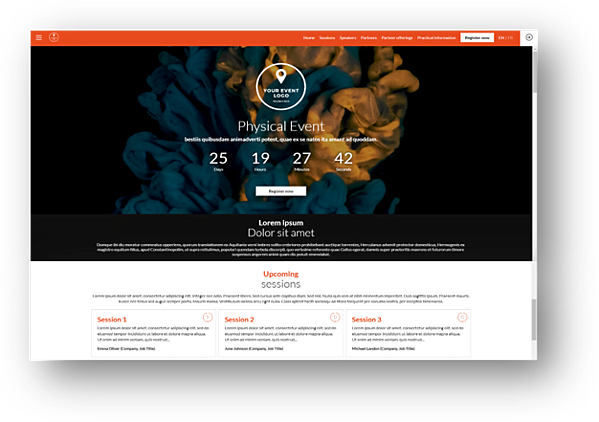 This template allows you to create the website of your physical event and the associated Back-Office.
With this template, you can manage the registrations, put forward the program of the event, the speakers, the partners, and share the practical information.
This format is ideal for:
An annual flagship event in-person
A day of in-person conferences
An in-person 1to1 meeting event
In-person professional trade show
Single page in-person event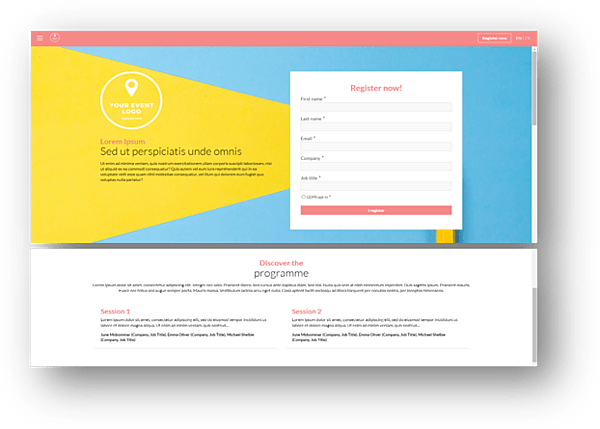 This template allows the creation of a website for an short in-person event, presented on a single page.
This template, similar to a simple landing page, puts forward the registration form and shares information about the event (program, speakers, partners, practical information).
This format is ideal for:
Recurring breakfast meetings
Customer / prospect meetups
Any regular and short meeting
In-person user groups…
Online event: Live session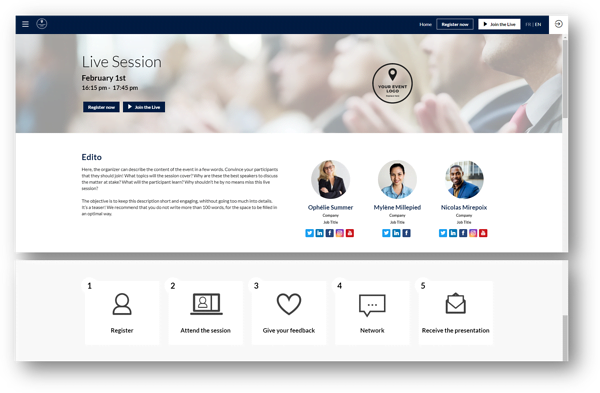 This template has been designed for your short digital events consisting in a single interactive presentation session followed by networking tables.
This format is ideal for:
Series of thematic meetups (similar to a webinar)
Online customer meetings 
Online user groups
Online job fairs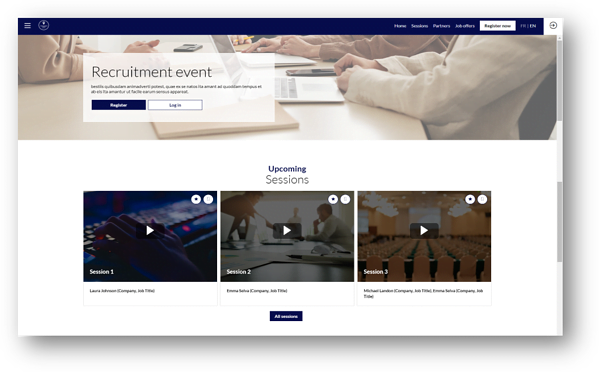 This template meets the specific needs of online recruitment events.
The template allows you to showcase companies, teams, job offers, and allows candidates to share their resume and book appointments for video-conference interviews with recruiters.
Membership management platforms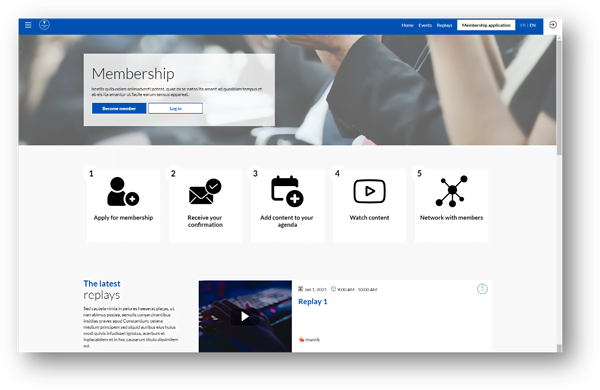 This template isn't designed for a time-bound event, but to create an annual platform only accessible to a defined list of members.
On this platform, members can access content, news, links to other event websites, live or replay video sessions, connections and networking with other members, etc.
This template allows you to keep your communities engaged throughout the year with a segmented approach. From a centralized location you can showcase your events program, your content, and the networking opportunities you can offer to your audience members.
You too can use a template to save precious time when creating your event!