Generating new sales leads, increasing the organising company's visibility or that of its partners… the objectives of an event vary from one to the next.
While there are many things you can do to encourage interaction with participants during an event, the key to an event's success is also determined in the period following the event. In fact, it's precisely at this stage that a relationship can be lost, and future solicitations be "ghosted". 
So how can we take advantage of this initial wave of commitment and develop long term relationships?
In this article, we'll detail 6 steps you can take to keep those event leads warm. 
1-
Collect and
analyse
all event data
Collecting all the data linked to participants' actions is an essential phase. Here, we're talking about information relating to: 
Registration:

contact details entered, date and time, source,

registration

method

, language, etc.

Pre-event activity: email open rate, sessions selected, business appointments accepted, networking

participation

…

 

Activity during the event:

attendance (online and/or

in person

), sessions

participated

in

, business appointments

honoured

…

Post-event activity: resources downloaded, response to satisfaction questionnaire

s

, etc.

 
During this data collection phase, an event management platform can simplify the procedure and be of great value. In fact, many platforms can provide this analytical data simply by means of an Excel export and the most advanced offer direct integration into a company's information systems. 
All this data represents a wealth of valuable information that can be used to qualify event participants and better understand their needs and interests. It will enable you to segment leads according to their profiles, and plan different actions for each segment. 
2-

Segmenting leads
Lead segmentation is closely linked to a company's sales strategy. The marketing and sales teams work together to define the action plan and to fine-tune it as events unfold. 
The simplest level of segmentation is to classify leads according to two key criteria: 
Are they already known/

identified

?

 

Have they attended the event

?

 
From there, it's a good idea to create specific email scenarios (subject line, content, and adapted CTA) and address these leads according to the following nurturing strategy: 
Participated

Did not

participate

Leads

already known

Nurturing scenario

1

Nurturing scenario

2

 

First

contact

Nurturing scenario

3

Nurturing scenario

4

 
After the event, it's important to process this data as quickly as possible to activate leads while the event is still fresh in their minds. 
3-

Update the event site
a –

Update the home page
Once the event is over, it's important to update the event home page so that participants can relive a few key moments, including elements such as: 
A

video recap

of the event

Event photos

 

A gallery of tweets featuring the event hashtag

A few selected pieces of content from the event (without revealing too much,

just a teaser

)

A few

event

statistics

Quotes from

satisfied

participants or partners

.
b –

Make replays available

 
After an event, some organizers will want to make all sessions available for replay, even for those who didn't attend. Others will say that this spoils the event and dilutes the sense of exclusivity for those that participated. 
It's up to you to find the right balance between these two approaches, perhaps by making only a few "teaser" sessions available, or by offering replay access only to those who were present on the day.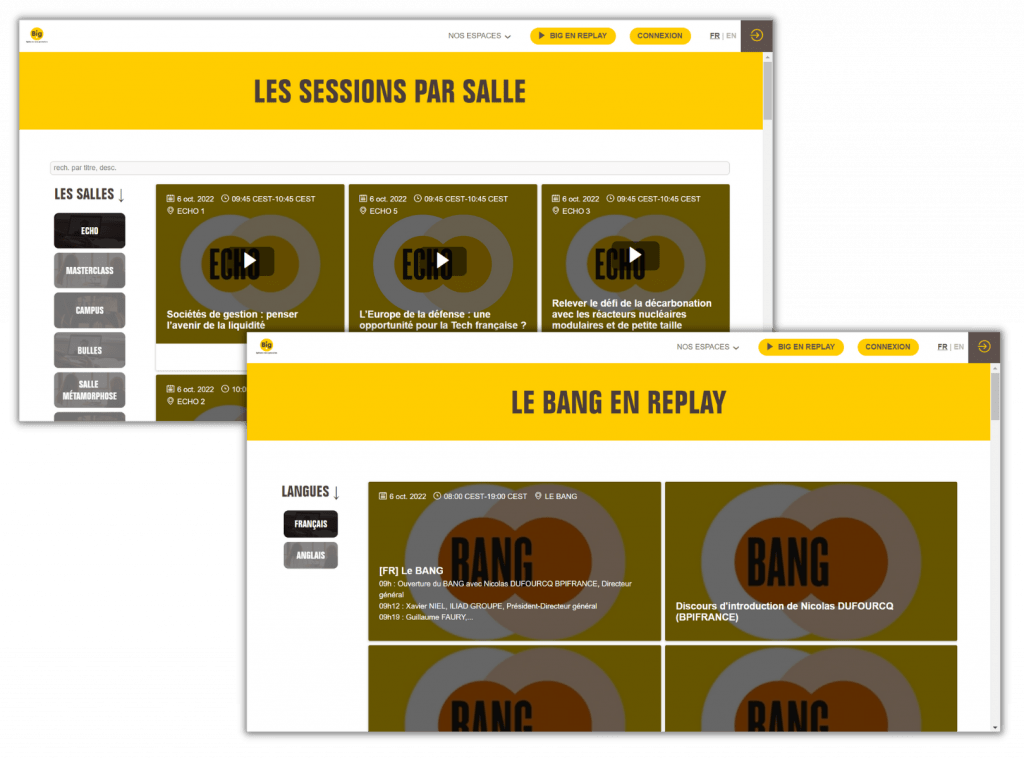 Examples of replay availability on the BIG website organized by Bpifrance.
4-

Implement

an appropriate communications strategy
Whether the event took place in person or online, email remains the preferred channel for keeping the conversation going. 
a –

Thank-you emails to attendees
An email thanking attendees for coming to an event is a solid foundation for your lead nurturing strategy. 
It can contain: 
A link to the replay

(s)

, or to the updated event website

 

Access to download

additional

resources

 

A CTA (action button) to book an appointment with the sales team

 

A satisfaction questionnaire (see below)

Etc.
Thank-you emails should go out 24 to 48 hours after the event, so that the event is still fresh in participants' minds, and the desire to interact with the company is still at its peak.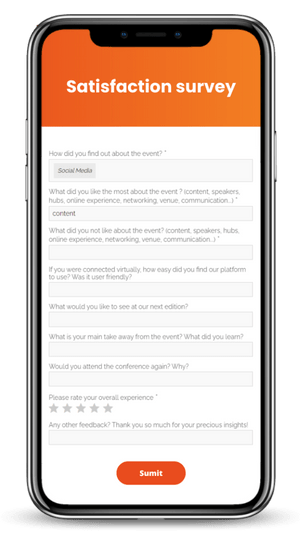 There are several advantages to sending out a satisfaction questionnaire: 
T

he

organizer

can

identify

what works and what

doesn't

, and what participants like, so that the next edition of the event can be even better.

 

S

ending one

gives importance to what participants have to say,

particularly

if their comments are

truly

taken into account

.

R

esponses

provide

material that can be reused to promote the next event (quotes to

show

social proof, for example).

 

T

his gives you the opportunity to ask participants a few more questions to enrich the data you have on them (company size,

objectives

and challenges, areas of interest, etc.).

 
Some additional ways of gathering participant satisfaction are detailed in this article. 
b –

Absentee emails

 
We also recommend writing to absentees, sharing a few teasers to show them what they missed, and encouraging them never to miss this type of event again.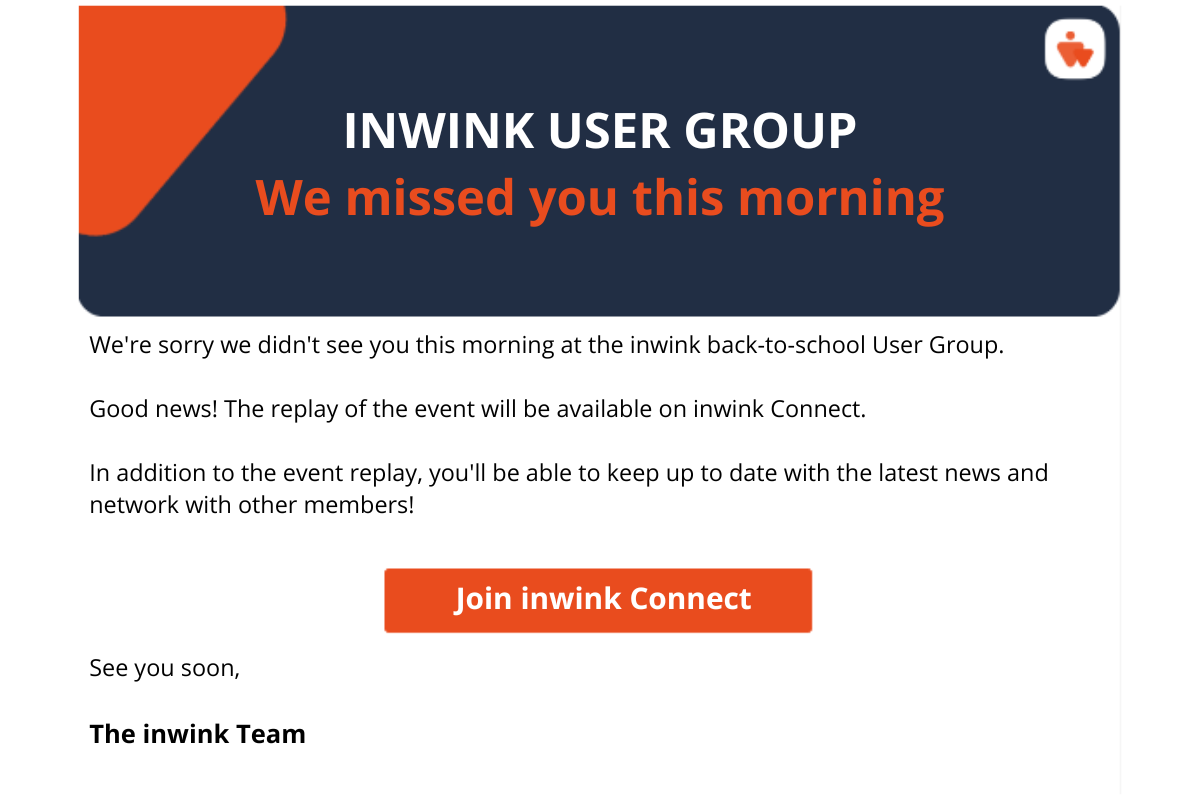 c –

Personalized follow-up emails

 
Depending on the context in which the event was organized, it may be a good idea to entrust the sales or marketing team with the task of contacting attendees directly for post-event follow-up. 
Whether to ask for their feedback on the event, or to share a resource or complementary content, follow-up provides an excellent excuse to begin a conversation with people who are qualified (they were invited to your event) and clearly interested (they came).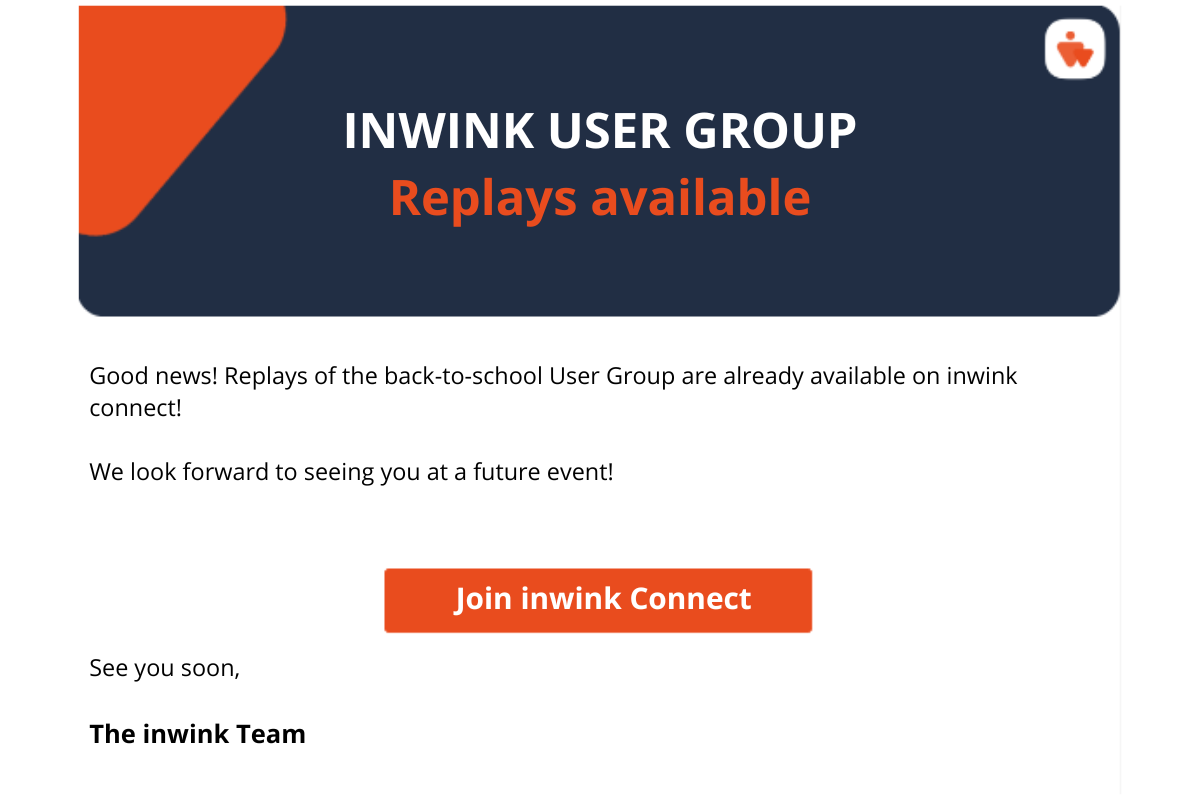 5- Create a community of the most engaged participants
A large part of an event's appeal for participants is networking with others who share the same interests and professional issues. 
To keep this momentum going, we strongly recommend that you offer them the opportunity to join a community of the most committed members. 
To do this, you need to create an online community that enables them to meet up, access content, exchange ideas and network well beyond the date of the event. 
This is a totally innovative way of reaching out to your audience, enabling dialogue throughout the year. The event is used as a springboard towards the creation of an on-going community bringing together those people most engaged. 
6- Sharing content
a –

Offer

additional

content

 
Event organizers can make additional content available to participants, so that they can continue to find out more, or dig deeper into certain topics covered during the event. 
For example, the post-event period is a perfect time to share a downloadable ebook in exchange for additional information (be careful not to ask for information you already have). 
b –

Reuse content produced for the event
Any content created for an event can (and should!) be reworked and reused. 
All the material that has been created, formatted, put into words, and presented at your event's conferences, round tables, presentations and workshops is a gold mine that can be used to create content that can be consumed over the long term. 
But it's also possible to create other formats: 
Summaries in text format (10 bullet points per session)

or formatted on a few slides.

 

Shorter encapsulated videos created from your replays

on

certain themes, etc.

 
Whatever type of post-event content is shared with the leads generated during the event, the important thing is to continue to track the data generated: monitor the visits, downloads and participations that take place after the event. 
This enables you to continue generating leads, or to further qualify existing ones, even once the event is over.